Time flies! We've got just 10 days before panel submissions close, and we're a bit lower on ideas than we would like to be. We know some of you love to leave things to the last minute, but anyone who can should go now and submit their amazing amazing ideas here: Submit Panel Ideas.
Got questions? We've got answers!
I've got a half formed idea and I need to breathe life into it. Can you help me?
Totally! Head over here to Dreamwidth and do some groupwork on panel idea. Even if you DON'T have an idea floating around, it's a great place to help other craft panels!
I'm a little fuzzy on how I should go about submitting a panel idea. Can you help me out?
Of course we can! Here's the best way to go about it:
If you log into your profile, you will see a list of different options where you can submit your program idea to the right department on the left-hand side of the screen. Please see the screenshot below for an example. (We know these screenshots are from last year–everything should be the same otherwise!)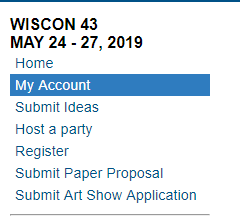 If you want to submit a panel idea, please click on the "Submit Ideas" option.
We ask that you please use the correct option for submitting your program idea. If you want to submit a party, you will need to click on the "Host a party" option. If you want to submit a paper proposal or academic proposal, please click on the "Submit Paper Proposal" option.
If you submit an event to us that is not a panel, due to the volume of panel requests and the subsequent organization of the panel schedule, we cannot guarantee that your submission will be timely transferred to the correct department.  The deadline to submit a panel idea to Panel Programming is January 19, 2020.
OK, that sounds very easy. Do I have to log in to submit a panel idea?
You actually don't have to log in to your profile to submit a panel idea unless you want to receive a confirmation email to show that your submission has been received. For your benefit, we recommend logging in, especially if you submit multiple panel ideas! It will be easier for you [and us] to keep track.
This is super helpful information. Anything else I should know?
Panel Programming wants to help you get the best WisCon panel programming experience, so after you register, we would like for you to do a couple of things to help us help you.
Update your profile, especially your email address.
All you need to do is log in to your profile, click the "Edit" link on the right side of your name, then click on "Save" once you're done.
Update your availability.
This information is essential for us. The more information you provide us, the better chance you have in getting your top choices of panels at your most desired times. To update your availability, please click on "Tell Us Your Schedule".  After you click on "Tell Us Your Schedule," you will be brought to the following screen: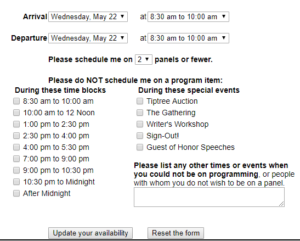 In this text, you will be asked for your arrival/departure information, your desired number of panels, as well as your preferred panel times. Once again, the more information you provide us, the better it will be for you. Given that it is still early, you can start off with a ballpark estimate, but please continue to update as we get closer to the availability deadline in March 2019.
As usual, if you have any questions regarding Panels, please email us at panels@wiscon.net.